Agar Tum Saath Ho Lyrics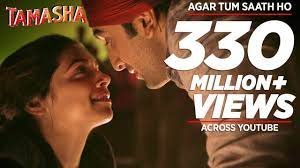 Agar Tum Saath Ho Lyrics
in Hindi.अगर तुम साथ हो song from Tamasha Movie. It stars the Lead role of
Ranbir Kapoor
,
Deepika Padukone
, Arushi Sharma, As a co-stars
Piyush Mishra
, Javed Sheikh, Himanshu Sharma, Ishwar Singh, Yash Sehgal,
Sushma Seth
, Vivek Mushran, Kshitij Sharma, Kanwal Preet Singh, As a Guest Appearance
Salman Khan
,
Tiger Shroff
,
Akshay Kumar
. The singer of Agar Tum Saath Ho is
Alka Yagnik
and
Arijit Singh
. Lyrics are written by
Irshad Kamil
, Music is given by A. R. Rahman.
| | |
| --- | --- |
| Song | Agar Tum Sath HO |
| Movie | Tamasha |
| Singer | Alkya Yagnik,Arijit Singh |
| Music Director | A.R Rehman |
| Stars | Ranbir Kapoor, Deepika Padukone, Arushi Sharma |
https://youtu.be/xRb8hxwN5zc
Lyrics in English:
Agar Tum Saath Ho Lyrics
Agar Tum Saath Ho Lyrics
Tamasha2015
Alka Yagnik,
Arijit Singh
5 min 41 sec
Play Song
Lyrics
Pal bhar thahar jaao
Dil ye sambhal jaaye
Kaise tumhe roka karun
Meri taraf aata har gham phisal jaaye
Aankhon mein tum ko bharun
Bin bole baatein tumse karun
'gar tum saath ho..
Agar tum saath ho
Behti rehti..
Nahar nadiya si teri duniya mein
Meri duniya hai teri chaahaton mein
Main dhal jaati hoon teri aadaton mein
'gar tum saath ho
Teri nazron mein hai tere sapne
Tere sapno mein hai naraazi
Mujhe lagta hai ke baatein dil ki
Hoti lafzon ki dhokebaazi
Tum saath ho ya na ho kya fark hai
Bedard thi zindagi bedard hai
Agar tum saath ho
Agar tum saath ho
Palkein jhapakte hi din ye nikal jaaye
Bethi bethi bhaagi phirun
Meri taraf aata har gham phisal jaaye
Aankhon mein tum ko bharun
Bin bole baatein tumse karun
'gar tum saath ho
Agar tum saath ho
Teri nazron mein hai tere sapne
Tere sapno mein hai naraazi
Mujhe lagta hai ke baatein dil ki
Hoti lafzon ki dhokebaazi
Tum saath ho ya na ho kya fark hai
Bedard thi zindagi bedard hai
Agar tum saath ho
Dil ye sambhal jaaye
(Agar tum saath ho)
Har gham phisal jaaye
(Agar tum saath ho)
Din ye nikal jaaye
(Agar tum saath ho)
Har gham phisal jaaye
Local Language:
पल भर ठहर जाओ दिल ये संभल जाए कैसे तुम्हें रोका करूँ मेरी तरफ आता हर ग़म फिसल जाए आँखों में तुम को भरूं बिन बोले बातें तुमसे करूँ गर तुम साथ हो अगर तुम साथ होतेरी नज़रों में है तेरे सपने तेरे सपनों में है नाराज़ी मुझे लगता है के बातें दिल की होती लफ़्ज़ों की धोखेबाज़ी तुम साथ हो या ना हो क्या फर्क है बेदर्द थी ज़िन्दगी बेदर्द है गर तुम साथ हो अगर तुम साथ हो पलकें झपकते दी दिन ये निकल जाए बैठी बैठी भागी फिरूँ मेरी तरफ आता हर ग़म फिसल जाए आँखों एमीन तुम को भरूं बिन बोले बातें तुमसे करूँ गर तुम साथ हो अगर तुम साथ हो तेरी नज़रों में है तेरे सपने तेरे सपनों में है नाराज़ी मुझे लगता है के बातें दिल की होती लफ़्ज़ों की धोखेबाज़ी तुम साथ हो या ना हो क्या फर्क है बेदर्द थी ज़िन्दगी बेदर्द है अगर तुम साथ हो दिल ये संभल जाए अगर तुम साथ हो हर ग़म फिसल जाए अगर तुम साथ हो दिल ये निकल जाए अगर तुम साथ हो हर ग़म फिसल जाए